It always gives an incredible feeling of having something that you had contributed to its production process, and this applies to many kinds of items. Crocheting is a very nice way of producing something for yourself and the loved ones. By using the methods of crocheting and stitching, you can create unique products, reflect your own style to different types of things, and in the end, you can be your own decorator. 
Blankets are the products that are very handy for the techniques of stitching and crocheting. The things you need to do crochet or stitch work are a hook, needle, and yarns so you can be your own designer. Even if not in total, you can attach some pieces of crocheted products to your blankets and make them unique for yourself. Stitching is excellent work for blankets. At the end of the crocheting, what you will have is not only going to be a designed blanket but also a fabric that has a very dense structure so that you can stay warmer even more. 
---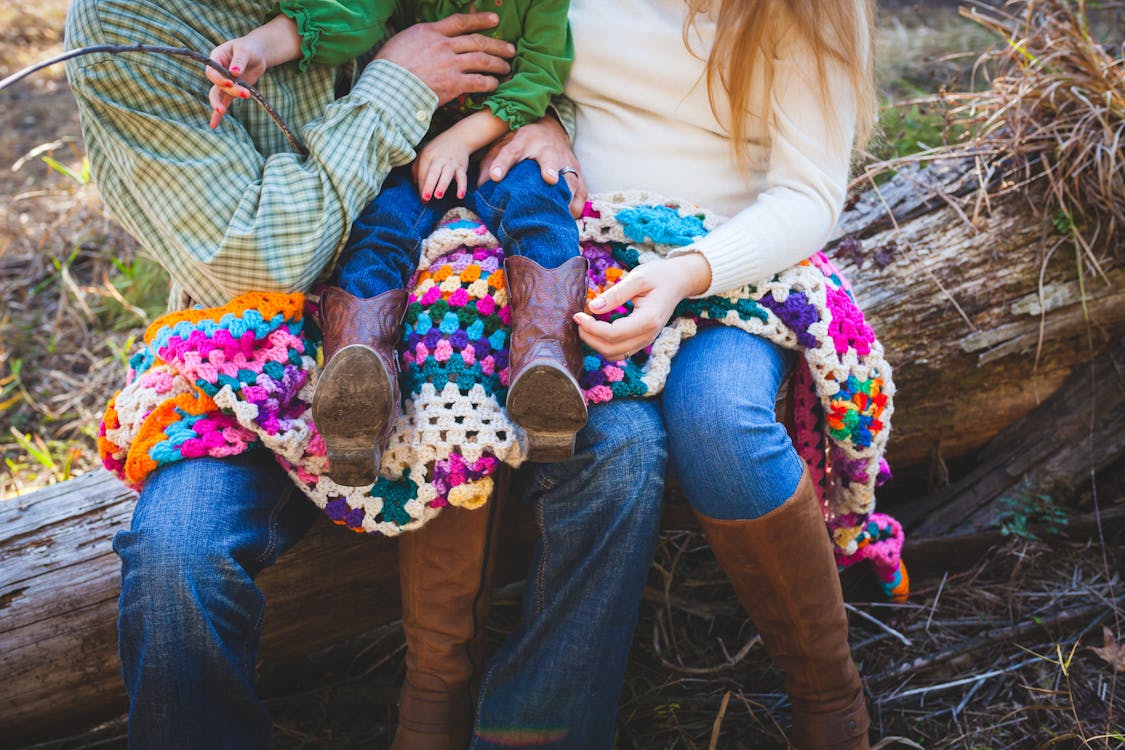 ---
Crocheting, Stitching and Styles of Doing It
Crocheting can be a very boring process for some, but in the end, you will see that it will worth all of your efforts, and the satisfaction that you will get from the use of it is beyond the price. In addition to the joy of creating something for yourself, crocheting makes the production process faster compared to knitting. We are somewhat familiar with the crocheted products of items like hats, gloves, or scarfs, and there are very diverse ways of making them. For this process, especially for the ones that require different part combinations, you need to have sewing skills as well, but this should not discourage you from doing that because you can have a great blanket with very basic sewing and crocheting skills.
You can create a blanket for yourself by using different skills, and these are not hardcore works. For example, you can just stitch different pieces to each other, such as you can attach different fabrics by using a hook, or you can crochet a nice blanket by using different crochet techniques. At this point, I would like to inform you about some of the crocheting styles in order to give you some ideas. As you will see, there are varieties of alternatives, and just feel yourself free, you can also create a single piece by using 2 or 3 different methods.
Crocheting Styles for Blankets
Aran Crochet – This type of crochet has a cable-like look. Another name of this style is rope cable. If you would like to create an Aran crochet style, you should do crossed post stitches, and in the end, you will have a braid style on your blanket.
Waffle Style of Crocheting – This is a style that is done only by double crocheting technique. It gives a look of depth style. It looks like a waffle at the end as it is composed of small squares. This is a very easy and convenient way of having a beautiful crochet texture on your blankets. Those waffle squares will be visible on both sides, and thanks to the little depths you will have a very comfy blanket.
---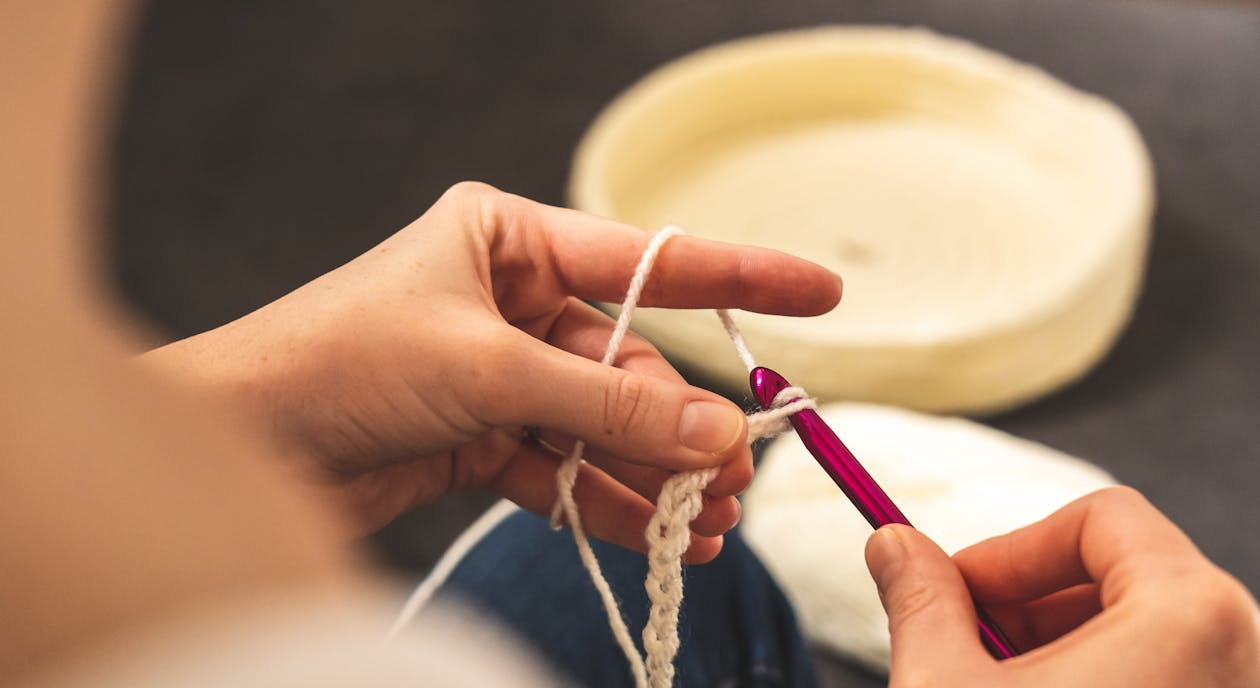 ---
Bavarian Style of Crocheting – You can create a very pleasant look by working in rows. Bavarian-style is very close to the waffle style in terms of look. In the end, you will get thick squares that have a depth look. I suggest you use different colors in different layers.
Chevron Style of Stitching – This is a very suitable design for those who would like to have some geometric ideas on their blankets. On chevron styles, you will see v shapes. All you should do is just stitching and doing some increases according to the patterns. It looks like small zig-zags.
Broomstick Crocheting Style – The broomstick crochet style has a very elegant look. It has a very pleasant appearance, along with gaps and crossed ropes. As the loops standstill on a skewer, you complete the knitting process with the help of a crochet. More troublesome than other genres, this style can extend the duration of what you are going to do. For such reasons, I suggest that you use this kind of craftsmanship not for a blanket, but for example, to make a scarf.
Moss Style of Crocheting – Moss stitch is not hardstyle, and in the end, you will get a dense texture and pattern. It would be best if you did repeats and round turns. It would look better if you use solid colors while crocheting. You do not need double crochet techniques; you can finish a whole blanket by doing stitches.
---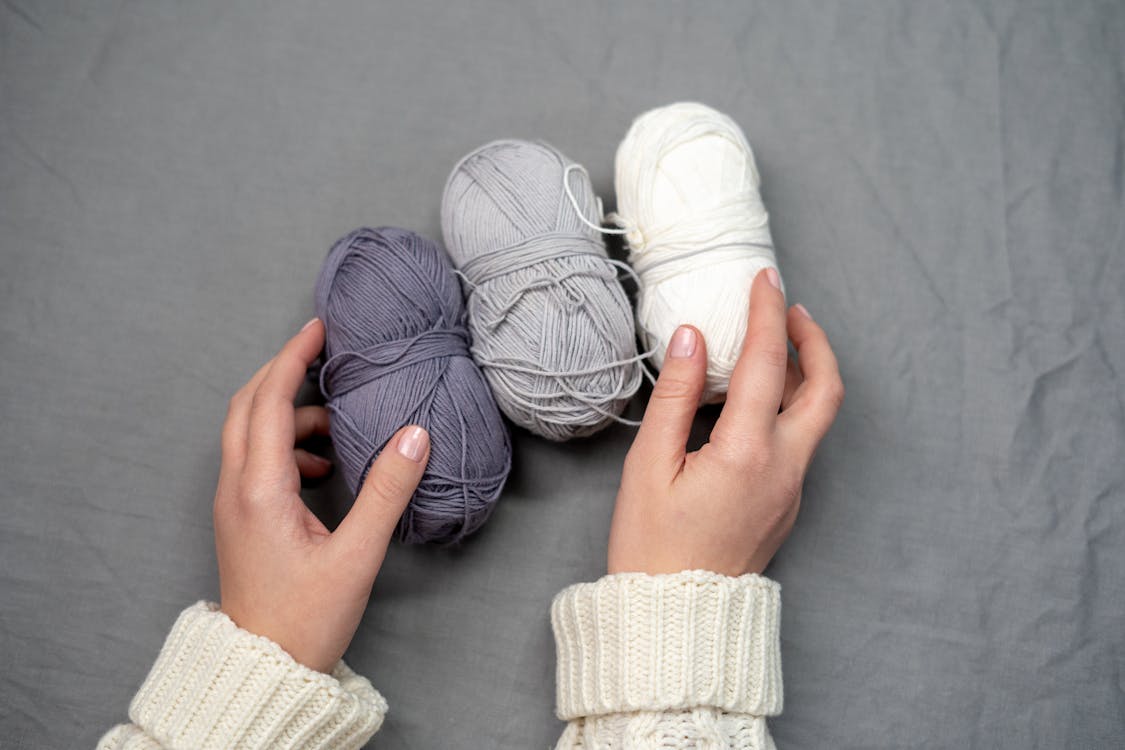 ---
Cro-Hook Style of Crocheting – In order to have a design of lines and squares, I would love to suggest you cro-hook design. This is a style on which you can see different colors of stripes and little squares. In order to have this design, you need to have a special type of hook. It will look like a stick having hooks on two sides. Applying this design is one of the easiest and fun way of them all. You will use two colors, so pay attention to the match of the colors.
Filet Style of Crocheting – This is a design that you can create by doing blocks of double crochets. This is a very simple technique, and you can do varieties of it depending on your choices. Its name comes from the look of filet because most people do this type of crochet for filets. You can do your own filet, blanket, pillow cover by using this pattern.
Granny Style of Stitching – This style is done by the single and double stitches. It looks like lines of small particles. This one would work great if you crochet each line with a different color. For example, you can have three different yarns and crochet each line with a different one. What you should do is doing sets of three-double crochet stitches, and then separating them with chains. For example, you can use this set; three double crochet- 2 single chains- three double crochet. In the next line, you should fill de single-chain parts with three double crochet and leave the crocheted part blank by using chains.
Overlay Style of Crocheting – Let me introduce you to one of the most beautiful works of crocheting. Actually, if you google, you will see that people are doing only one single piece of this, but you can combine it with many fabrics or crocheting style. For example, you can locate an overlay into the middle of the blanket and crochet the rest with a solid method. I do not suggest this one for the new beginners, rather for advanced ones. Also, you need to have many types of colors of yarns in order to make the pattern charming and visible. You can make it like a geometric style, such as mandala work, or you can crochet a flower-like overlay. No matter how or what, you will have a fantastic design at the end.
---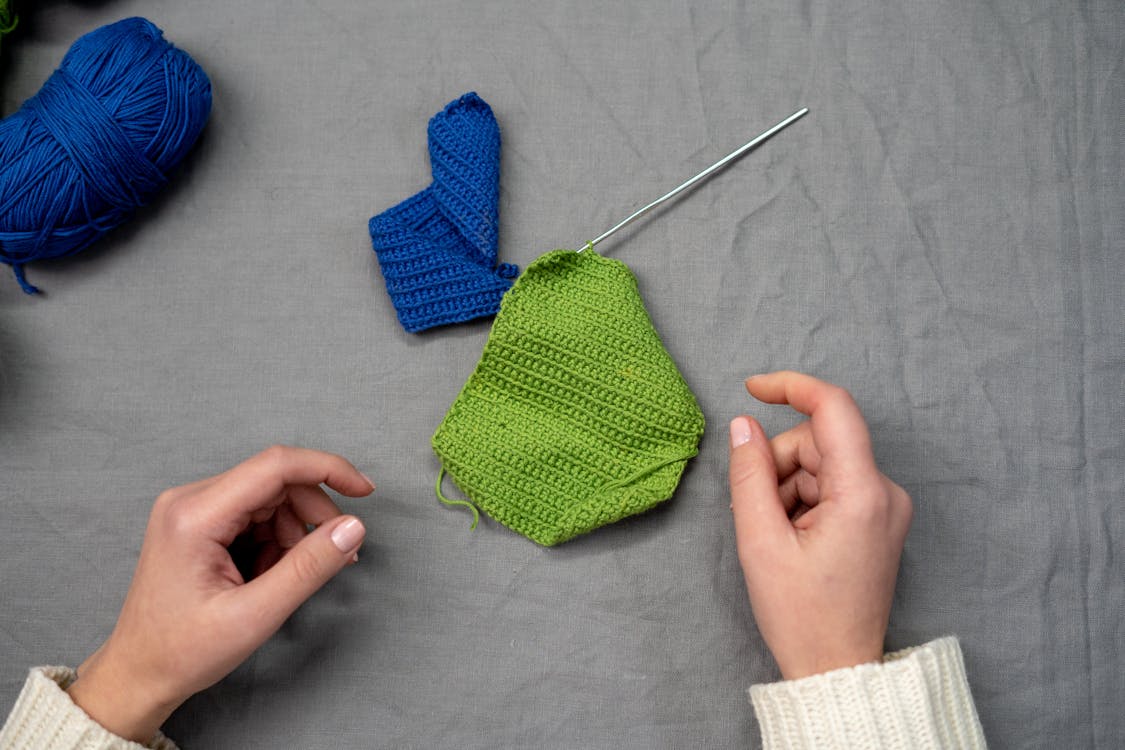 ---
Bobbles Style of Crocheting – This is a very cute and pretty way of crocheting. This pattern is used mainly for the amigurumi sheep. It will have a corn-like and comfy look at the end. In order to do this style, you should make double crochets, accumulate them on your hook (depending on your sizes, for example, you can gather five double crochets), then you should combine all of them with a single stitch. In all of the styles, I would strongly suggest you watch youtube clarification videos. The only problem with this pattern is that it wastes more yarn than the other types. Because of the bobbles that are created during crocheting, you will spend more yarn compared to a solid design.
Alpine Style of Crocheting – If you are looking for a crochet style that can give you a dense texture, this can be a good alternative for you. In order to make an alpine style, you should do repeats in four rows. You will get a diamond shape in the end, and your blanket will have a thick texture. It is not a complicated style; you should just need to know double crochet. If you are a beginner, you can think about starting with an alpine style. I would rather suggest you use solid colors such as blue, pink, or purple for this style.
Stained Glass Style of Crocheting – This one is quite similar to the overlay style of crocheting. The main feature of this style is the use of black color as a way of creating contrast with the other colors. I do not suggest this one for the new beginners. Like in the case of overlay style, you should know different methods, also color changes. However, they are absolutely amazing products on decorations. You can crochet many squares with stained glass style techniques and then combine all of them, and in the end, you will have a wonderful blanket. If what you are looking for is a piece of decorative advice on this list, this is absolutely the best alternative to do so.
Tapestry Style of Crocheting – This is an absolutely adorable style of crochet for the home and wearing products. The main focus of tapestry crocheting is making amazing color changes during crocheting. This style is mainly used if you would like to do some color changes or add some patterns to your product. For example, by the technique of tapestry, you can make a heart shape in the middle of your blanket. Applying this method will give you the ability to do different color changes. You do not need to know specific types of stitching. Just do basic stitching, and carry one color while stitching the other.
---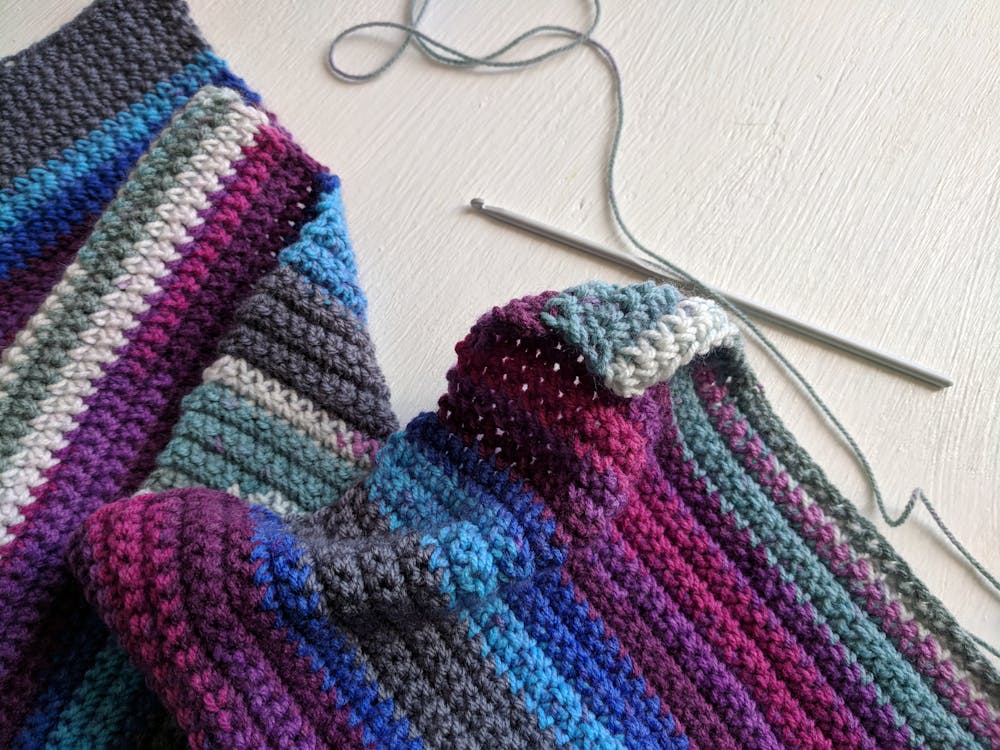 ---
Shell Style of Crocheting – If you are looking for something solid, but at the same time very chic, this is the right pattern that you are looking for. Shell-style looks so amazing on crocheting. You should apply many double crochets into one space (such as 5-8). The basic method of this technique is doing lines of shells. For a blanket, you should crochet a longer line. I would rather suggest you use solid color yarns in order to put the beauty of the pattern forward, but you can also use different colors in the lines.
Tunisian Style of Crocheting – This is a very easy but a really good looking style for the beginners. You will enjoy your time a lot while crocheting this one. Basically, it looks like knitting, but a lot easier than that. If you are looking for something that you can easily learn know-hows, and then, in the end, you will have a gorgeous and thick texture, this is the exact choice. If you would like to do one, you should have a single but long hook. It would look amazing if you use colorful yarns. You do not need to turn the other side of the product; you should just do passes from stitches to stitches. I guarantee that you will enjoy both doing it and the product itself.
Important Points About Crocheting a Blanket
Before doing any kind of work, it is always better to have some advice from people online, etc. Therefore, before starting your project, I wanted to give you some suggestions that can be beneficial for you. First of all, if you are looking for something that you can finish as fast as possible, I would definitely suggest you use the double crochet method. Only doing stitches will not give you enough amount of size, but double crocheting is better for you.
Also, double crochet is the main technique that you must know before starting crocheting. Only by knowing double and single crochets, people create varieties of patterns, and all they do is changing the number of repeats, doing some spaces, filling the blanks with stitches. There are so many versions of patterns that I have listed above, women create variations of it, and according to the different shapes, cultures, and looks, they get their names. You can simply create your own blanket just by doing double crochets with your hook. You can create your own design. Those patterns listed above can be the point of inspiration for you.
---
---
If you are planning to make a twin blanket, it has a width of 66″ and 90″. You can also take your body or bed sizes as a point of reference. If you would like to make a baby blanket, you should make it at the size of 100 cm / 39″, and in order to do that, you should crochet 75 rows, and for the height, I would suggest you complete it at the 120 cm / 47″, close to 100 rows. It is up to your decision to decide on the length of the blanket. Also, the number of yarns that you have in your hand might determine the size of your blanket. If you would like to have further information about the blanket sizes, you can have a look at my text on Blanket Dimensions.
Another important point about crocheting is that you should match your hook and yarn wisely. Every yarn has a specific hook measure that you should pick. For example, I do not suggest you use very thin yarns. Otherwise, it would take too much time for you to finish your project, and also, if the yarn is not dense in wool, it would not keep you warm at all. Even there are ways of doing crocheting without using a hook. You can use your hands to crochet a blanket. This is a newly emerging style for many, and you can create one for your new-born.
Suggested Amazon Products
Throw Blanket and Pillow Cover, Hand Crocheted, Afghan
---
---
This is a very beautiful handmade blanket to decorate your home. This is a throw blanket that you can mainly use on your coach. 
This will give a special touch to your living rooms. 
The type of cotton that is used while crocheting is cotton and acrylic yarn mix. 
If you would like to know the size of the blanket, 128 X 170 cm (50.4 X 66.9 inches) Measurements of Pillow: 40 X 23 cm (15.7 X 9 inches).
There is also a pillow cover in this set. 
The manufacturer strongly suggests you use dry cleaning. 
Also, there might be differences in the products that you see online and you received due to the screen resolutions of mobile phones, computers, etc. 
If you are interested in the price, this gorgeous handmade throw blanket costs $425.00.
Personalized crochet wedding blanket bride and groom names and wedding date
---
---
This is another beautiful and handmade blanket that you would love and can add some beautiful names and dates on it. 
The producer calls areas to have and to hold the type of blanket. There are spaces that you can ask for writing the bride's name, groom's name, and the date of the wedding. 
The dimensions of this blanket are 43″. 
The colors used are ivory, beige, light blue, medium blue, and gray with ivory edging. 
The producer also warns about the size of the blanket, because it may vary due to the length of names and the size of the date. You may like to enrich the style with additional things. 
 If you are interested in the price, this beautiful handmade blanket costs $259.95.
Ramie Cotton Crochet Hook Bed Cover Blackish Green Lace Bed Spread Blanket
---
---
Whatever the price is, this is absolutely an amazing product for those who are interested in such style because, first of all, the size of the product is pretty large, and it takes so much time for the producers to finish such projects.  
The yarn that is used for doing is 55% ramie and 45% cotton. Thanks to this mixture, the blanket is so soft, droop better.
This is a handmade product and done by using a hook. 
If you are interested in the dimensions, 78″ by 88″(200cm*225cm), and the picture is suitable for a bed of 59″ by 78."
This product is suitable for machine washing, in a gentle cycle and cold water. You should not bleach and apply plat dry. 
 If you are interested in the price, this lovely handmade blanket costs $239.00.
Wool crochet blanket, handmade blanket, afghan blanket, hand crochet blanket, granny squares, multicolor, patchwork, cottage style, OOAK
---
Here is a very typical product for all of you. This blanket is super nice and comfy for everyone with a cottage style. This will be an elegant addition to your home and definitely keep your warm. 
The type of yarn that is used for this blanket is Latvian wool (100%). Plus, this yarn is absolutely eco-friendly and organic. 
The producer also warns that this type of yarn might be itchy for you if you have very sensitive skin. 
The color is, as you can understand from the picture, it is changing. There are lots of colors used while crocheting. 
If you are interested in the blanket dimensions, approx. 54 inches (135 cm) length and 54 inches (135 cm) width.
Furthermore, the cleaning instructions are; open to hand washing in warm water by using soap, and you should dry flat. It is not open to bleaching, and you should not tumble dry. 
 If you are interested in the price, this delightful handmade blanket costs $130.00.
la Reine Large Chunky Knit Blanket Bundle with Knitted Throw Pillow, Soft and Thick Giant Cable Hand Knit Throw, Big Yarn Blanket or Throw for Sofa, Gift for Her (Dusty Pink, 40″ x 59″)
---
---
My final suggestion is the one with a very comfy and pink style. You and your family will absolutely love it! This is a giant blanket for you, and there are three types of colors that you can find. They are grey, lilac, and dusty pink. In addition to that amazing blanket, you will have a very nice pillow. All the colors that are offered are very trendy and decorative. 
There are different sizes of bed/ sofa/ couch throw OR queen size.
Those cozy and oversized blankets are woven with the comfiest yarn and braided by hand. 
There might shedding occur due to the nature of the yarn. You can remove those with the help of a scissor. 
The manufacturer guarantees your satisfaction. Otherwise, they will refund you 100%. 
If you are interested in the price, this cozy oversized handmade blanket costs $145.99.